Old paradigms for evangelism stopped working decades ago at the advent of the digital world we are now in. An urgent need, thus, emerges to develop a new evangelism strategy in the digital culture. I'm sure a church should enjoy a significant ROI from Local Search Engine Optimization ("Local SEO") as the new evangelism strategy in the digital culture since the first thing people do, regardless of different generations, with the ever-popular digital devices is an online search. 93-95% of any digital experience today begins with a search engine.
Keyword Research for Community Deep Listening
The Local SEO is seeking a relationship building with those in the proximity of a local church who search for keywords like "best churches near me," "VBS near me," "marital counseling," "Bible study," and "wedding venues," etc. These searches are intrinsically meant for finding a local place. Online searches for a specific keyword will land at your church website containing the keyword literarily. Knowing this concept would help if you first looked at keyword research for the maximum output from Local SEO as a new evangelism strategy in the digital culture.
Keyword research is not finding an attractive name for a ministry. It is to find the most potential keywords related to your ministry that are being searched in your local area. It is closely associated with finding the underserved needs of your local communities. Those frequently searched keywords most likely represent searchers' needs. They are looking for local service providers that can meet their needs. Many tools are available for exploring how much search volumes for a particular keyword. Since it is a free service, I will use Google's keyword planner for finding the search volumes for selected keywords. The best way to access it is to Google search on "Google Keyword Planner," It will guide you there.
When you type in a word or a short phrase, the planner will display the list of the related keywords with the monthly search volume and its competition level. Determining the ideal keywords representing your church's value proposition requires a great deal of trial and error. Think of it this way: using the wrong keywords is like putting the incorrect address on a business card. Instead of getting closer to seekers' intent, you're directing them somewhere else.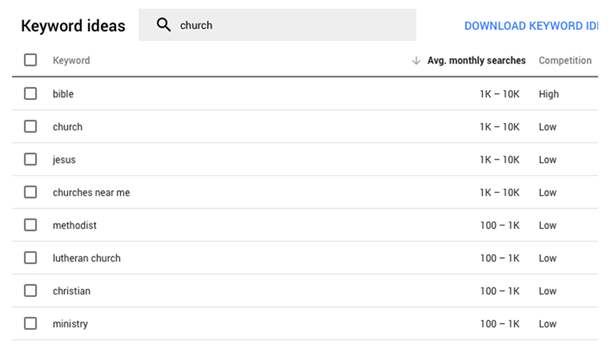 The keywords at the top rank with significant search volume and high competition maybe not be a good choice for your ministry even though they represent the ministry you want to use for evangelism. It won't be easy to win over competitors who already have the content appear on the first page of the Search Engine Result Page (SERP). There may remain low-volume relevant keywords with less competition. Grab them and optimize your church web page for those keywords. Despite relatively lower search volumes, local searches often carry steady traffic to your website and can deliver foot traffic to your church that is far more likely to convert ("convert" here is not a religious term. It simply means that those who search for a specific keyword will take a related service to the keyword. For example, a search for "VBS near me" leads to a new signup.)
Do you remember how we used to do community deep listening? We hired a professional to train and send out staff to knock on each door and engage local people with a well-designed questionnaire. The same research work can be done without leaving your desk. Keyword research provides you with actual data showing in real-time which topics and needs the local people are interested in. It helps you develop relevance in your ministries by focusing on the community's actual needs.
Keyword Research for Targeting the Users' Intent
Let's picture a scenario: your church is in New York, and you want to boost the seekers' visits. "church in New York" is a starting keyword. But its scope is too broad. The competition for such a term is also high, making it challenging to rank in the SERP. Naturally, you would want relevant keywords that drive the specific online traffic to your website and convert those online visits into foot traffic to your church.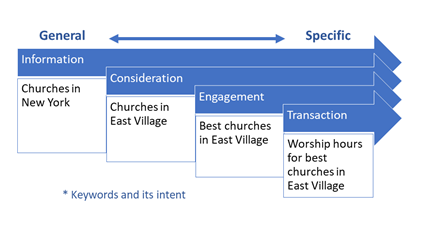 For this reason, you should narrow down the target audience with a composite keyword. This helps drive relevant, highly targeted traffic to your church's website and convert the traffic into foot traffic to your church. With this practice, keyword research sets the stage for your successful evangelism.
This involves more than just looking for search terms to use in a campaign. Effective keyword research is also about understanding how search terms match users' intent, the purpose of the site, and your church's goals. This diagram shows four types of users' intent behind their queries. For example, some Christians who moved into East Village would search with the keyword, "Best Churches in East Village." If they wanted to attend a church service on a Sunday, they would search for "Worship hours for best churches in East Village." Clicking one with their preferred hours from the SERP takes them to Apple map or Google map for direction. Aligning your keywords with the correct user intent goes beyond increasing click-throughs. How about optimizing it for the best children's Sunday school in East Village? It will add specific reach to the families with kids in the local community. Therefore, effective keyword research should follow user intent, as it solidifies the seeker's journey and opens opportunities for conversions.
Closing
We have investigated local SEO as a new evangelism strategy for the digital culture. Keyword research is the primary element for local SEO that has become a new way of doing deep community listening and targeting the users' search intent. In the following post, I want to talk about optimizing your church websites for local searches.