Why have we not often seen good cases of church revitalization today?
No matter what, revitalization intends new growth. There are many factors in church growth. Number counts, but it is not everything. People matter. Celebrating stories of changed lives and godly impacts on the community should be considered. There should exist various metrics suitable for each context.
Growth requires taking new initiatives to explore new ministry opportunities. Suppose your ministry team can find the actual needs of your community that your church seeks to reach and is determined to invite, welcome, and serve them with attractive ministry value propositions. In that case, your new ministry could keep scaling up to critical mass for the congregational life development cycle to kick in for organic growth without further intervention by investing considerable ministry resources.
Here is a big catch! Any new changes or initiatives for a church that has been stagnant and now seeks to revitalize its congregation are to run a dual ministry operating system capable of navigating uncertainties inherited in new ministries while maintaining its current ones for the existing congregation.
Why ambidextrous operations? Simply put, your existing system, including culture, congregational development methodology, resources, strategies, operation process, and so on, has yet to be effective in attracting new people. That's why your church couldn't have been resilient during the past turbulences, caused by the perfect storm of the digital revolution in the past decades and the recent COVID-19 pandemic, and agile for new growth opportunities. Stagnancy was the best-expected result. New growth cannot be achieved unless your church successfully owns a new effective, and efficient ministry system for today's world.
Could you modify the current system to a better one? It is a good question and was valid till 30-40 years ago. Today's society is changing rapidly at the high internet speed, which has been renewed almost weekly. We have been in uncharted territory, and it will be ahead of churches for a while. Many new talented pastors took and are taking this approach without comprehending hidden risks. Uncertainty is a super keyword for the uncharted parish. Shortage and failure must proceed before finding a new effective strategy for a context full of uncertainties. Not many congregations can handle the roller-coast drama. As a result, most efforts have just produced unhappy congregations and frustrated talented pastors.
A passionate pastor with corporate background once argued during my seminar that the outcome would be different if it were not a church but a profit corporation. I could feel a talented pastor's frustration from all her latest unfruitful endeavors, desperately trying to mobilize her stagnant congregation. However, that is not the case, either. Those companies with proven records of very successful working systems, such as Kodak, RadioShack, Blockbuster, Borders, Compaq, Circuit City, and numerous others, disappeared behind the scenes during the digital revolution while improving their existing operating systems.
Let's think about what should be covered by a new system. The additional operation for the new initiative would be very costly since the ministry's value propositions were based on unidentified assumptions. People may not welcome your new ministry for their needs. This can be because you didn't identify their actual needs correctly, the ministry value propositions are not attractive enough, there can be other churches or organizations that successfully serve the community for the needs already, or something else, such as timing. Validating the assumptions as early as possible in the development process is crucial. As soon as validated, your congregation needs to make a quick decision to continue with the modified value proposition or fold it as you treat it as one of the "Better to Try and Fail Than Never to Try at all" pilot projects.
Once the initiative could hit the sweet spot, there will come a surge of satisfied new people with your ministry value proposition. You shouldn't get confused with this initial surge. It just indicates that your ministry is going well in the right direction. It doesn't mean the ministry is thriving. During this initial surge phase, your congregation is better ready to welcome new people, probably unchurched people who thrive in today's digital culture. Here, cultural competencies play a crucial role for new people to find your congregation a place to belong. If your church can't make a culturally relevant relationship with the new people, they will hop to another place to belong, as if it is just a one-mouse click away and cost your latest initiative in vain.
Let's say your congregation is now making culturally relevant and meaningful connections with new people. You will soon realize that each new people require someone or a small group to provide intentional caregiving for them to find your congregation to belong. When you successfully foster such a new organic culture, in which your ministry team can offer relevant ministry value propositions according to a new target audience's need, run through a new ministry operating process to invite the targeted people, welcome visitors to ministry activities, and provide caregiving for them to assimilate into the culture, you now reach a potential stage of ministry growth extrapolation.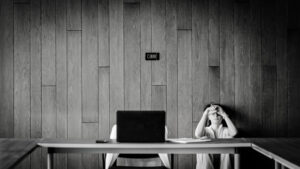 This stage should span at most a year since it requires enormous transforming energy. During this stage, the continuously developed ministry strategy and its ministry operating system become parts of the governing culture. The cultural transformation is actually happening during this phase.
During the Ministry Extrapolation, one of two painful routes must be taken:
Fusion

: You must systematically eliminate any elements in the existing congregational cultural system that hinder the newly fostered culture from being effective. Then, the new one becomes fused into the current congregational culture. It is like pouring new wine into an old sack that was just renewed. It takes hard work. Before removing any things from the existing system, communications, communications, and communications with your congregation. Otherwise, leaders will be occupied with handling internal friction.

Cannibalization

: When analysis reveals the above fusion costs too much, but the newly developed culture is proven for healthy growth in today's culture, you must allow the new one to cannibalize the existing congregational culture. Minimizing loss should be the highest priority, but you cannot prevent it from happening.

Migrating the current congregation into the new culture would be futuristically promising and more manageable than the fusion process.
If one of the above approaches couldn't be taken, the last refuge is to take the new community developed through the latest initiatives as a new church planting. I used to call it Multiplication. However, the traditional ways of multiplication seem obsolete due to the emergence of a new online worship community. Thanks to COVID-19, Christians don't reject the concept of online worship anymore. Instead, most of them accept it as a valid channel and try to make it possible by creatively devising liturgical elements. The Cluster church is another emerging concept that can substitute for the traditional Multiplication or replenish it in the post-pandemic era. I will discuss it in detail next time. I have seen more successes through multiplication than fusion and cannibalization.
Church revitalization is not readily achievable because of the scale of the complexities mentioned above. You need to take a well-planned systematical development approach to increase the chance. For this reason, I have developed the I.G.N.i.T.E. ministry innovation diffusion framework and the Just-in-time ministry development strategy.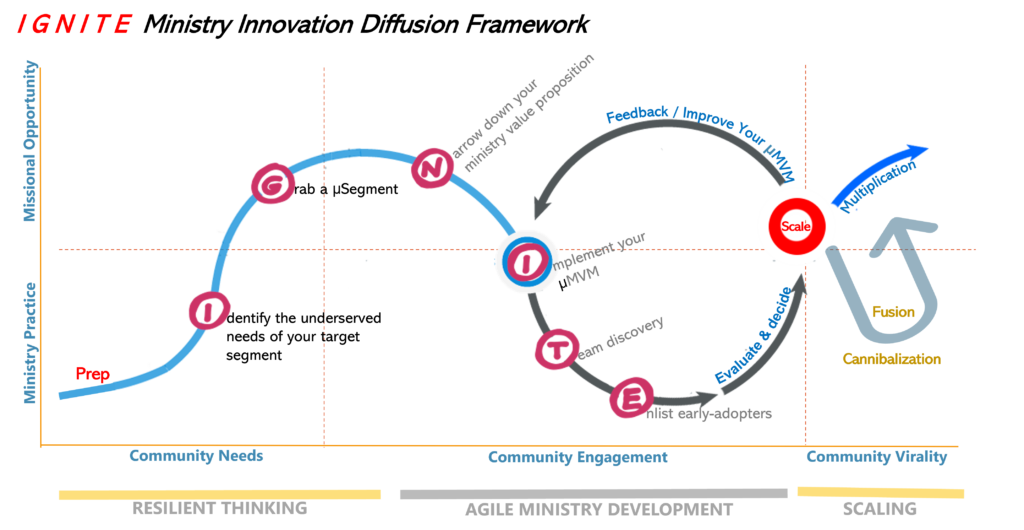 They are intended for the district superintendents, congregational developers, and those talented pastors who need a practical framework and methodology to coach other pastors or to dive into other revitalization initiatives.