How can a church become resilient enough to mobilize its ministry, break through the barriers it faces, and overcome disruption when confronted with the uncharted territory of the digital age? I want to introduce a ministry framework developed for that.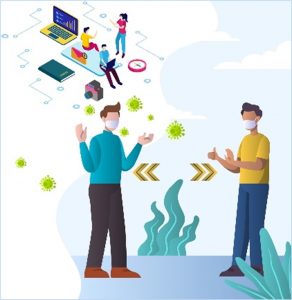 Two new trendy words represent the COVID-19 pandemic: Digital Nomads and Social Distancing. The associated effects will continue dramatically changing the world as we know it. It is terrible news for the church communities because the sense of belonging and in-person interactions is at the center of their essence. Even before the pandemic, traditional ministries have been disrupted by the digital revolution, and old ministry paradigms stopped working decades ago, especially with the advent of the digital world in which we live now. Most spiritual leaders acknowledge this statement's veracity because they have personally experienced it; further, statistics indicate that the digital age brought an inevitable disruption that impacted churches and all industries. Even brick and mortar establishments, which seemed to have a permanent existence, have disappeared for good because of the digital revolution.
How can a church become an inviting and welcoming congregation that instills a feeling of belonging and is wide open to its community? How can it thrive in the digital culture? How can a congregation equip its leadership with practical competencies for their ministry that impacts people's lives despite all the adverse statistical reports? Are you ready to pray a dangerous prayer for your holy journey in quest of answering these questions?
When seeking to reach new people in an ever-fast-changing community, you must produce your ministry strategy by continuously adapting to the changes. Duplicating a known good ministry case and introducing it into your local setting does not guarantee success. Instead, the development requires analyzing your local culture, implementing a just-in-time ministry using the framework, executing it in the shortest process loop to gain feedback from the new participants (even if small in number), evaluating and pivoting it with the feedback, and enhancing the ministry from multiple perspectives by reflecting the complex diversity of your target segment and the dynamics the organizing party.
The new strategy development is multi-dimensional since it involves community needs, ministry practices, community engagement, missional opportunity, community vitality, and ministry multiplication and adaptation. Something can go wrong if a congregational developer does not own a unique context-based strategy.
Here, I want to discuss an adaptive ministry framework that creates your ministry strategy while developing, executing, and enhancing a new ministry seeking to reach new people in a process loop. It is called I.G.N.i.T.E. ministry diffusion framework ("MDF"). The purpose of I.G.N.i.T.E. MDF is again to guide motivated spiritual leaders with a simple ministry innovation process through which they can construct an effective ministry strategy in their local context.
I.G.N.i.T.E MDF will help leaders embark on a unique journey called Ministry Innovation Diffusion. Alpha Station is where they initiate it, and HyperLoop Station is where it gets pivoted back into another journey at a different dimension.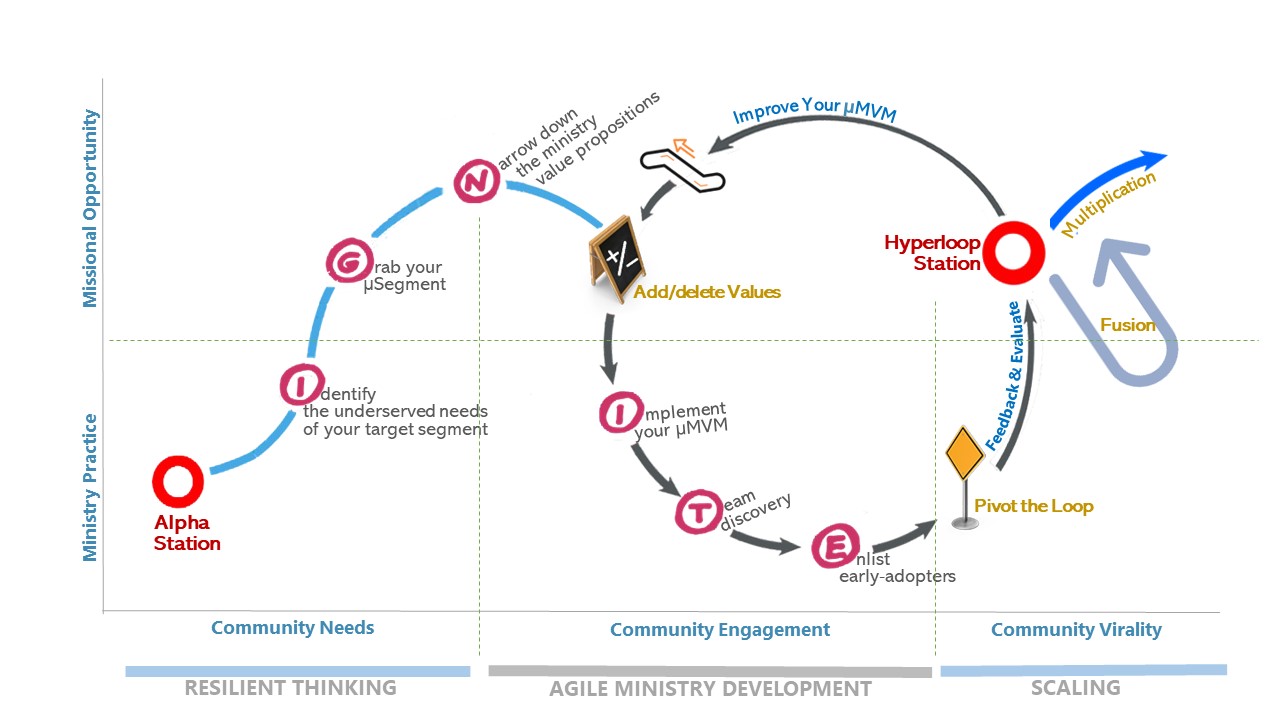 You will pass through six critical stations, captured by the acronym I.G.N.i.T.E.: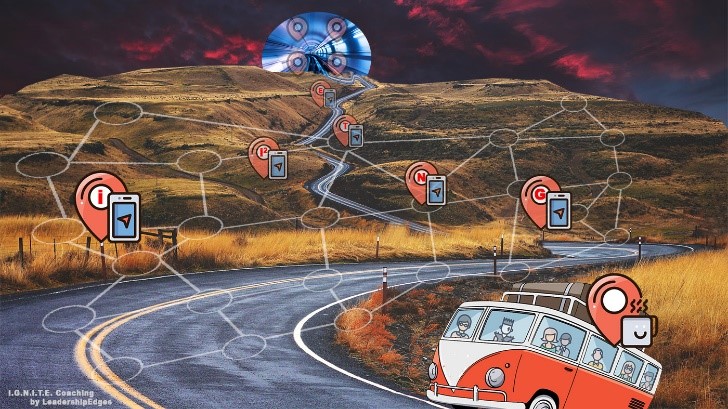 Identify the underserved needs of your community
Grab a micro-segment ("µSegment")
Narrow down ministry value propositions ("MVP")
implement micro minimum viable ministry ("µMVM")
Team Discovery
Enlist early adopters
We can group these stages into three innovation spaces:
RESILIENT THINKING: BREAKING THROUGH
The first one consists of three linear stations promoting resilient thinking. Most leaders are trained to evaluate their situations and improve them by adding the required resources and equipping their leadership with needed merits. This approach works when there exist accumulated assets, including relevant competencies. When it is not the case, many leaders are often confined by scarcity and struggle with an irresistible sense of disappointment, "My church is stuck or stagnant… Is that all there is?" The bottom line of the problem-saturated stories is that old ministry paradigms are no longer working. We do not own the cultural competencies necessary to connect with the people we seek to reach.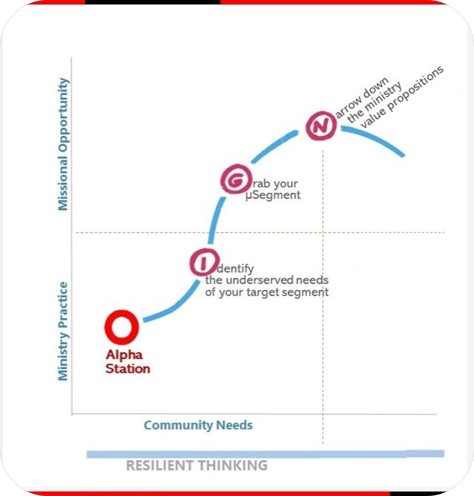 To mobilize a church into its preferred emerging story even in today's complicated ministry settings, we must impose relevance on our aspiration-based ministry development by taking a new approach that begins with identifying the underserved needs of the local community.
First, let us acknowledge that a proposed ministry cannot satisfy everyone. Today, people are customed to high-quality professional services. They are demanding even higher quality because advanced technologies have made it happen. When we live in a world where one bad review can close down a business, it is terrible news that churches do not own the technological and cultural capacity to provide such a high-quality service.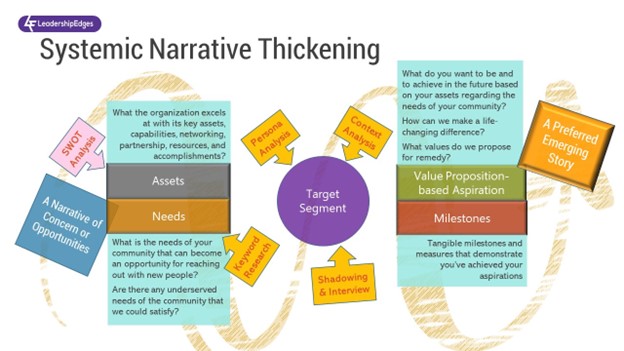 This is precisely why you should focus your aspiration on finding and serving the underserved needs of your community. Look for any existing asset you can use to develop a ministry alleviating the pain associated with the need. The identified need of your community defines your target segment. Most times, churches are trying their extensive efforts inclusively to target as many people as possible. This idea is a myth. Why? Please read the post on "Cultural Competency is a Process." You should seek to reach early adopters within the target segment, and this group is called the micro-target segment ("µSegment"). This group is known for seekers actively looking for a remedy for their impending underserved needs. They are also influencers in the local community. Please read the post on "How can you intentionally reach early adopters? It would help if you devised a ministry value proposition to remedy the need. Please implement every value in your ministry. However, let's face the reality of time constraints.  The longer it takes to implement the ministry project, the more chance there are to fail to execute it and lose the window of opportunity. It will help if you narrow it down to the minimum you can include in your ministry implementation in that time constraint. The vital factor for the success of your ministry today is to intentionally locate a small number of the specific beneficiary group and produce minimum ministry value propositions ("MVP") just for them. The Systemic Narrative Thickening process shown above will help you correctly narrow down the ministry value propositions with higher relevance for the specific group.
THE LOOP: Community Engagement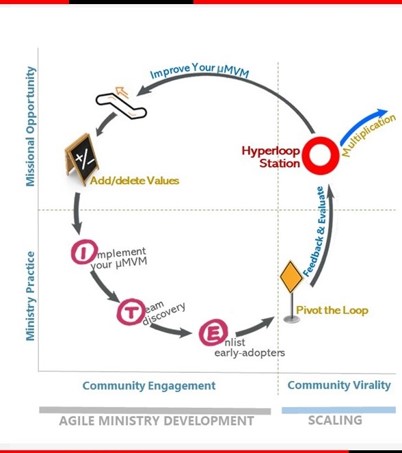 We want to shift from the problem-saturated story that is the current reality to a preferred emerging story. Your ministry idea must be thickened, validated, planned in the RESILIENT THINKING innovation space, and implemented and executed in THE LOOP.
The LOOP's secret recipe is to enlist only a small number of early adopters as participants or team members. The scale of the first loop is no more than three to ten early adopters to enlist. This Loop must be completed in a sweet short time, like a week to a month.
The implementation is based on the Minimum Viable Ministry ("MVM") methodology. The principle is to develop a ministry with the minimum MVP set, which is good enough to alleviate the pain points of the µSegment, without any intention of a full-blown ministry deployment in the first round. The initial loop should be an experiment or a pilot ministry with the singular purpose of getting honest feedback from the first participants. Validating the ministry's relevance with real focused people and eliminating the gap between hidden assumptions and reality is critical for promoting viral community development.
Team Discovery takes two phases. Why two phases? It is to plant a DNA of intentional recruitment practice at the center of the community. The community should grow organically. Each member of the community invites no more, no less than three people. They become a caregiver to find the community for their belonging and become self-reliant community members as inviting and welcoming their own three people into the community.
Team discovery is not a one-time activity but a recursive reproduction. The fertility rate of three new births may sound too high, but it is not when considering today's trend that people easily hop to other communities to find new homes. The net fertility rate near two indicates that an organism is in a very healthy condition. You should explore and learn to maintain an optimum rate. You should analyze the community under development and find an optimal speed for growth. I do not believe that faster growth is healthier.
The team discovery and their leadership development should continue in each Loop. It will ensure the ministry's effective operation despite team members' short-term commitment. You should develop the community assuming the short-term commitment level from the leadership team. It is not because people do not want to commit to a year-long leadership. But it is easier to recruit leaders with a shorter commitment requirement. One of the most important goals is to establish the just-in-time ministry ("JITM") model of recruiting needed leaders from abundant leadership resources in your community. The effective JITM in community development is a mark of agility and Asset-based Competency Development ("ABCD"). The essence of The LOOP is to collaborate with community connectors. Please read the post on "Collaboration is a New Ministry Strategy." The community connectors are bringing the demanded competencies and willing to participate in ministry for a great cause. They are a medium for networking with other connectors and people in the local community. I coach leaders to learn how to onboard the community connectors as community co-organizers.
THE HYPER-LOOP: Community Virality
When the first round of The Loop is successfully executed, the ministry team with the first-twelve members is now activated to run the µMVM as they participate in enlisting focused early adopters. One of the crucial insights in this innovation space is for the team to understand compelling reasons to join ("CRTJ"). Most people believe they are related to the purpose of the ministry. Most times, it is not. People are motivated by recognizing a discrepancy between reality and the desired state. The award needs to change. Whether it is sometimes apparent or more latent depends on µSegment faces and how that situation can be improved when they join the program. In other words, the CRTJ is based on specific circumstances motivating µSegment to join—not ministry attributes. It sounds commercial, but it is not. "Come and see" is an excellent example of stimulating the desire for change. You should carefully re-examine your statements inviting people to join. What messages should be constructed for meaningful and relevant communications with people of various CRTJs? More compelling reasons would produce more chances for enlisting new people. Each CRTJ defines a group. What channels are there available to reach each CRTJ group? It would help if you studied behavioral patterns based on psychographics and Mosaic lifestyles. I will discuss them in another post.
Feedback collection from those who joined the ministry is a critical action allowing you to pivot your ministry in the following round of The LOOP. You should analyze feedback, explore false assumptions hidden in the ministry's value proposition, and rectify the current MVP. Creating an Experience Maps with as many participants before a new revisit to Impact and Effort Matrix Analysis would increase the ministry's relevance to the target segment's actual needs. The Experience Map allows leaders to see their ministry, including team members, through the participants' eyes. It further helps to determine which additional value propositions should be included or omitted in the following implementation round. This innovation space's bottom line is to evaluate, pivot, and scale the ministry for the next round of The LOOP. I will discuss Experience Maps and Impact and Effort Matrix Analysis in a new post.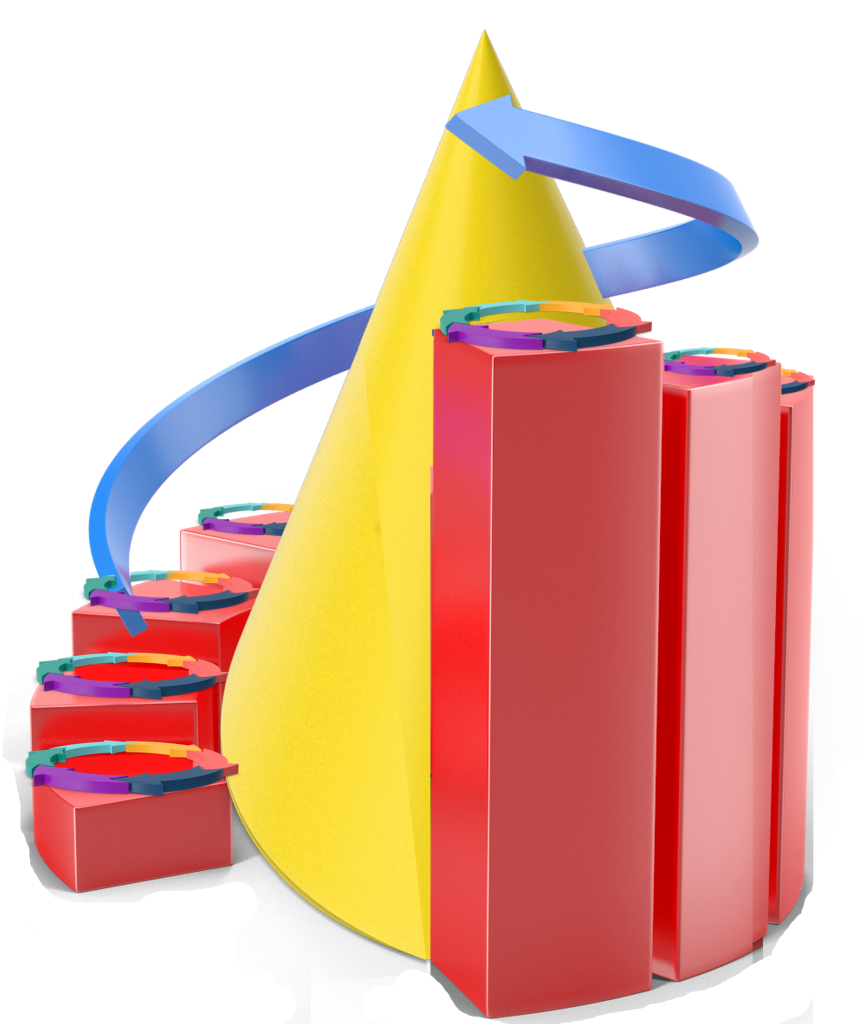 Looping back into the LOOP with the culturally competent ministry team and enhanced minimum MVP is a Hyper-Loop experience! It is not the same as the first Loop. The ministry is to be executed in another dimension. The tipping point in ministry growth is no longer its size but the cultural competencies allowing you to enlist early adopters from the communities, thriving in the digital culture, and eventually grow with them into a faith community. Before the ministry development is set into a normal ministry life cycle, no more than three Hyper-looping is recommended. The reason behind this recommendation is that it is hard to keep up with the values of a Christian community when it grows too fast with new people, possibly unchurched ones. It takes time to develop Christian characters.
Resilience, agility, and performance are crucial when mobilizing a stagnant church. I.G.N.i.T.E. ministry innovation diffusion process is one of the best strategies for such a case. Once your congregation is successfully mobilized through the framework, a strong recommendation could be to adjust the length of The Loop to a more extended period, three to six months, six months to one year, during the transition to the normal congregational development life cycle.
ADVOCACY MINISTRY MARKETING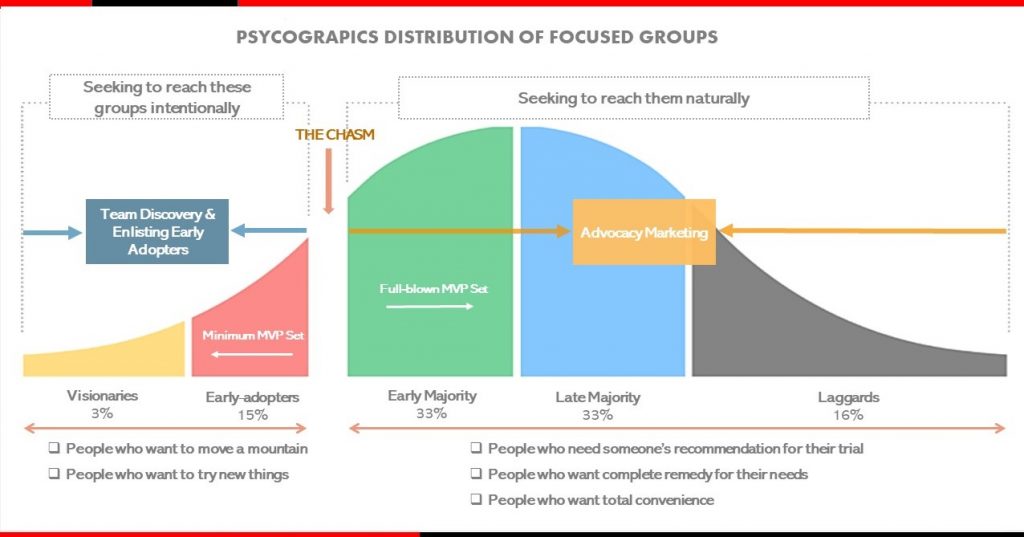 When the community keeps growing and reaches a point when seeking to go beyond the early adopters of the focused group, advocacy ministry marketing should find its place in your ministry strategy. It is a form of marketing that emphasizes getting existing participants to talk about their community experiences. More than 80% of people research online. Their decision influenced by online reviews before buying should give community developers something to find and study. At this point, not earlier, you should actively engage in social media. Your existing website should act like landing pages for various content constructed for multiple needs. The growing community should communicate more than its ministry MVPs that alleviate the pain points of the focused early adopters. Testimonials and stories about those who have joined the community become essential.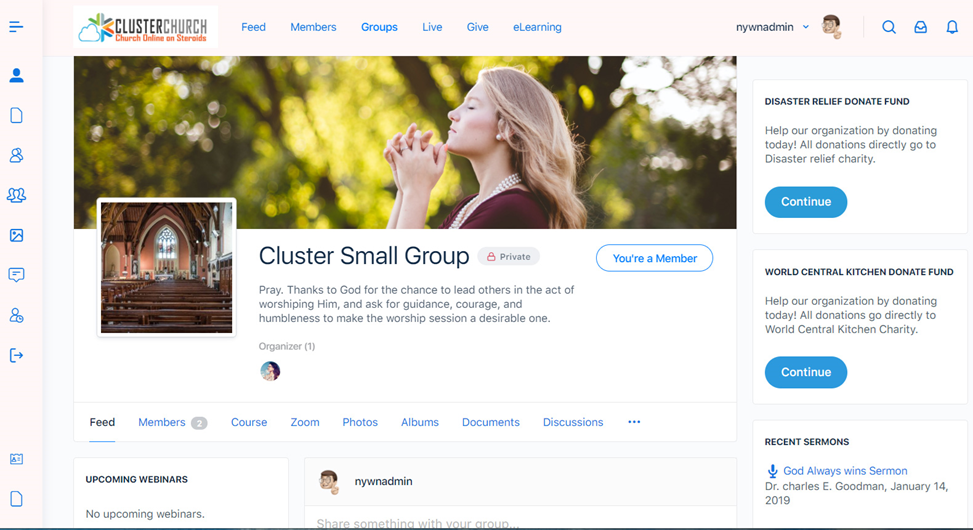 Social media should now play a more significant role at this point. However, not many people are willing to play an influencer role in religious practices; therefore, using a private social media platform is highly recommended. I provide churches with a Church Online Platform based on a private social network that has been fully customized for churches. When community members start to share their stories and invite people in their circles through the platform, ministry innovation finally taps on your community's virality.  About 85% of people placed the most trust in the recommendations of friends and family.
Furthermore, about 68% trusted the opinions of actual users they found online. Yes, a significant segment is motivated to join a new community program since it reduces pain. However, remember that a larger group of people need to identify and associate with others who had similar issues that the ministry resolved before entering a church.