I have asserted in my previous post the importance of the cultural transformation of your church. This post is about your congregation's crucial understanding for a successful transformation.  Success begins with proactive leaders shaping and measuring culture, approaching it with the same rigor and discipline with which they tackle leadership development.
Missionary mind-sets
Too often, we are all accustomed to or inherit inefficient and dysfunctional ministries. We are willing to accept them as if spiritual leaders ought to do so. We hesitate to talk about why a ministry project has failed or why a church member or a seeker wouldn't come back. By doing so, we not only lose a chance to get feedback and take our ministry to the next steps but also send a wrong message that spiritual values are nothing to do with success and intentional growth. When you take success and growth seriously as crucial elements in congregational development, you should encourage experimentation, through pilot projects, by enlisting a few early adopters for the pilot programs. It will create a chance to explore their experience journey and add viable values to your programs in response to their needs. As shown below, looping this process is a way to achieve excellence in your ministries. The secret of successful looping is to make it as short as possible. Not many organizations can manage a complex ministry project demanding a long haul of the loop since complicated dynamics can be unexpectedly created in the fast-changing world. Target a small number of early adopters in a short loop, like a month-long sprint.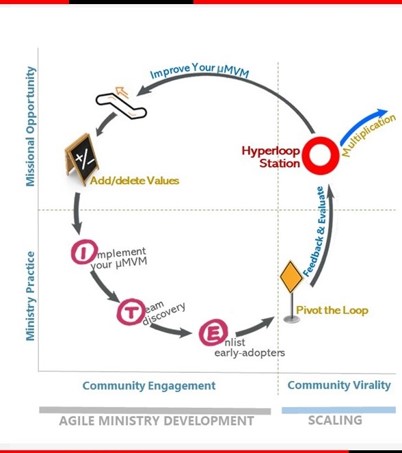 We don't have to punish falling short of excellence since even unsuccessful pilot projects bring significant and practical insights into real people we desperately want to reach. Learning from your previous sprints, realigning your ministry direction, and pivoting your pilot ministries with honest feedback will transform your congregation to be more resilient and agile about adjusting structural and tactical elements of the congregational development that run counter to the cultural transformation we are trying to achieve. I've witnessed many pilot projects grow into a full-blown life-transforming ministry touching all those people's lives in the local community. These emerging ministries could never have been realized unless a leader dares to take an experiment that has once fallen short of the standard but continue to loop the ministry development process by reflecting the relevant inputs from the previous rounds of the experiment. I want to say that the leaders own the missionary mindset needed for today's mission fields.
Let's face one of the brutal realities. One of the largest denominations in the USA, where I have a full connection, is not getting younger anymore, with the average age of the Sunday worship attendance close to 70. They were disrupted by the digital revolution with the consequent phenomenon of "Dones and "Nones" as many as 70-80 percent of younger people do not find the church relevant or meaningful to their life. The Exodus of these younger people from the pulpit changed the landscape of the denominational future. Even worse, in 2022, it is not just confined to younger generations. U.S. church membership was about 70% around the turn of the 21st century. According to Gallup's update, it went below 50% around 2020. It continues declining with no sign of recovery. According to the Pew Research Center, about 30% of U.S. adults will be religiously unaffiliated in 2021. The coronavirus pandemic didn't help people discover the relevance of their belonging to churches.
Many leaders have questioned whether my denomination would exist in the next 30 years since the traditional church culture has failed to provide relevance and connection to the emerging groups in today's world. I think every spiritual leader finds relevance in this insight. What can we do to reverse the phenomenon? How to make your churches more inviting, welcoming, and a belonging place for people in your community. Today's churches are situated in a local community like a church is isolated and surrounded by water, as shown in the image above. I heard many years ago that the first thing sought by the missionaries appointed by the Southern Baptists was doing nothing but mastering the local language and bringing up the level of their cultural understanding for their first three years on a mission field. They can then begin any meaningful missionary works with such competencies. The better we learn how to speak today's language and the sooner we know the values of today's culture, the more chances are to build relationships with the local community thriving in the digital culture.
Closing
We need to learn to possess the "missionary mindset," which spiritual leaders must train their congregation to have for the successful cultural transformation of their congregation. This mindset will help us drive bold, decisive actions that enable the agile ministry in the uncharted territory of the new digital world. Such moves require risk-taking, including the just-in-time ministry with continuous reorientation and nimble resource reallocation. In my next post, I will talk about the just-in-time ministry ("JITM"), which is super important when your congregation lacks culturally competent leaders.