Just-in-time ministry begins with acknowledging that most churches don't own necessary cultural competencies that facilitate successful community engagement today in the culture with technology at its center. As a result, the belief and values in the community church have been defied a long time ago since the digital revolution has disrupted our churches. Although every church committee intends to support any efforts to enlist new seekers, including younger people, nobody seems to know how to get close to where they are and get meaningfully connected with them. (Please read my post on "Just-in-time ministry (Part I) if you haven't read it yet)
Disruption into disruptive innovation
Despite all the adverse effects of the digital age on Christianity, it has paradoxically provided a better means for churches to get closer to their community and build relationships with today's people in a culturally appropriate way. Accustomed to best-in-class user experiences both online and in-person with services provided by rising companies, such as Google, Amazon, Apple, and Samsung, people increasingly expect easy access to the information they need and swifter responses to their inquiries when they want it. The ministry paradigm with the main focus on Sunday-only communications and activities within the four walls is no longer acceptable. Whether your congregation has a long, proven great track with your community or not, or the best preacher delivers a life-transformational sermon every week or not, this ministry paradigm cannot make it today. Your community should be able to access your church in-person or online 24/7. The good news is that many leading technology solutions exist to meet these demands, and they are almost free. Good planning and thoughtful implementation of digital transformation of your ministry could reduce the overall time investment for the actual ministry outcome you can generate with such a transformation. When, however, treating the technical nature of today's ministry as a piggyback to your existing ministry, it simply demands more hours and resources of yours without any vivid result. Technologies are at the center of today's culture. They are the medium to generate exponential virality effects for your community outreach pursued by any relationship-based organizations, including churches.
Do you want to do a "community deep-listening" project? It used to take months for professional ministers or community organizers to complete it, even on a small scale. We used to go out to drop by store by store or house by house to do a survey or invite a focus group to explore their trends and values. It consumed our time, energy, and financial resources. Those efforts would be wasted unless we could produce a well-prepared correlated questionnaire or find the right mixture of relevant people for the focus group. No committed man-powers. No financial resources for it. Doomed. However, every year, someone in your congregation always urgently talks about reaching your community if it is not you.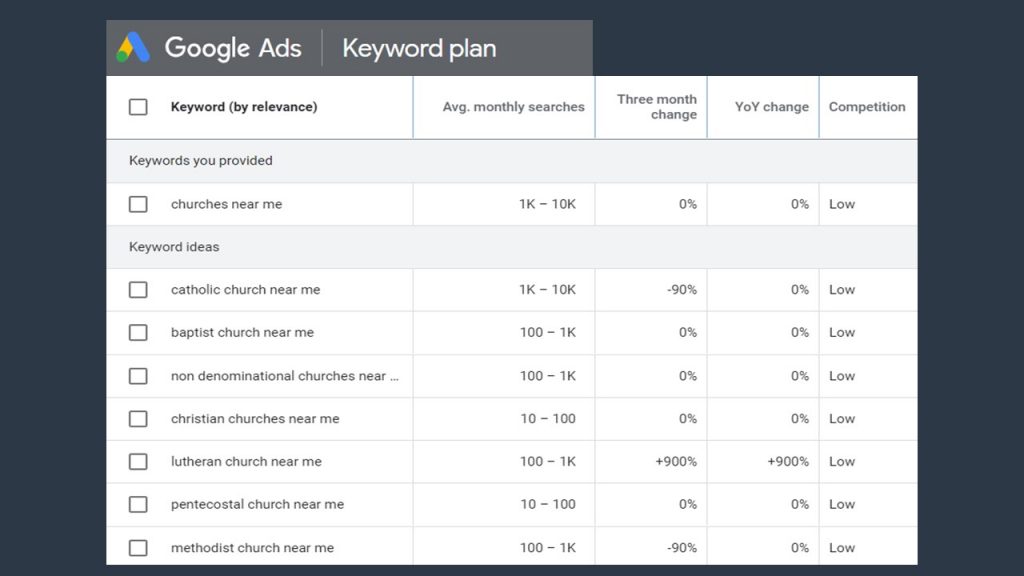 Now, you can do the same community deep-listening or better accurate ones without leaving a step away from your desk. You can use technology solutions, like Google's keyword planner and other keywords research solutions. Most of them are free, or we can use the free version for ministry purposes. What kinds of keywords and how frequently they are being searched from your areas can reveal the underserved needs of the community. Imagine significant search volumes for the "churches near me" in your areas. It simply means that seekers or moving-ins seek a church in the local area. More such Google searches land on your church website; you can expect more visitors for your worship services. How about "Children's education," "Toddler bonding," "Volunteer works for the youth," etc.? The keywords research utilizing one of the technology solutions helps us find the actual needs of your community and shape and present corresponding ministries for those needs. You don't have to create a ministry based on someone's aspiration and find out later that your target audiences are not interested in or need such a ministry. What a waste of valuable God's gifts! Tapping on simple technologies opens a new window of ministry opportunity to serve the community for their actual needs. It helps you access where your target audience is and enlist early adopters for your ministry and build relationships with them.
Closing
The first paradigm shift you should make when adopting the Just-in-time ministry model for your community development with scarce cultural competencies is to tap into the power of technologies. We should remember that the technical side of your ministry is not a piggyback ministry but interwoven into every part of your ministry. The benefit of technologies today is not just to increase efficiency. They are now playing the role of mid-wives for any individuals and organizations, including churches, to create initial encounters and build up a relevant relationship with new people. This paradigm shift teaches us to find all those abundant resources available to utilize when reaching out to the community. Guess what? Aside from the road on which he was probably traveling back and forth over the last forty years, as Moses could find a bush on fire but not burning up, you could discover significant valuable assets around you.